With the holidays coming quick, get your pies with the top frozen pumpkin pie manufacturer in America.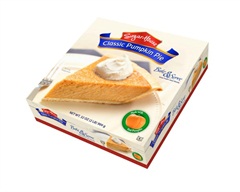 When you select your pies this Holiday Season, we at SugarHouse Pies can be your one-stop shop for: Apple, Pumpkin, Dazzleberry, Apple & Cherry Lattice, Banana Cream, Coconut Cream, Lemon Meringue, French Silk, Sea Salt Caramel French Silk, Four Seasons Lattice, Red White & Blue, and Caramel Apple. These unique flavors are what sets SugarHouse Pies apart as a top quality pie baker and not just another manufacturer.
SugarHouse Pies offers the quality that you expect for Holiday gatherings
Pumpkin Pie and Apple Pie are among the strongest traditions in America during the Holidays. These pies have become such an important part of our culture that it is almost considered an insult to not have them available for a Holiday feast.
With our years of experience in baking, SugarHouse Pies is aware of how important it is to provide a quality pumpkin and apple pie during the Thanksgiving and Christmas Holidays. This is why we created frozen pies with delicious, flaky pastry crusts, home-style presentation, and a slow baked flavor that even Grandma would enjoy.
Far better Holiday pies from a baker than you get from a manufacturer
One common problem with frozen pies made by large manufacturers lies in the fact that they produce the pies too quickly. SugarHouse Pies does not believe in the mass production of pies since it involves sacrificing key ingredients that make the pies more flavorful such as shortening and maintaining the fruit integrity. When we set a goal to make top quality Pumpkin and Apple Pies for the Holidays, it means we must slow down our production process to ensure the results you expect.
This is why SugarHouse Pies still considers itself more a baker than a manufacturer as we are producing high quality frozen Holiday pies that can be enjoyed by the entire family. It is more important to us as a top pie supplier to provide your family an experience with our Apply and Pumpkin Pies that will make them want to enjoy them as a tradition every year.